PORT WASHINGTON – (USUALLY) A FAVORITE STOP
The marina in Staten Island provided a good port for a couple of nights.  It's not fancy, but the local boat owners there are so darn nice!  And they're very patriotic!  There were
American flags flying everywhere.  It seems to me that Staten Island gets a bit of a bum rap.  It is the "forgotten borough" of New York, but it actually has a lot to offer; and this view off our stern might make you think you were in England or Ireland, not 10 miles from Manhattan!
We've made the trek through New York Harbor and the East River countless times (actually 36 for John) and it's always fun and exciting, watching out
for water taxis, ferries, and moving barges.  This year it was a little different, even eery.  We saw only a handful of traffic, and when we got up near LaGuardia airport, over a period of 30 minutes, not one single plane passed overhead.  Normally they'd be coming in/out every 30 seconds or so.
Port Washington on the north shore of Long Island has always been one of our favorite stops.  If you've read my previous blogs you'll know why…….there's a huge grocery store AND a HomeGoods!  Seems like a shopper's paradise if you've been out on the water for a few weeks.  Plus it provides a good opportunity to pick up things we may have forgotten or, of course, things we don't even need!!  (If you're a HomeGoods lover, you know what I mean! Wink wink!) But as you can probably guess, there was no visit to HomeGoods this trip.  Sigh.  And to make it worse, we discovered during a walk that there is now a TJMaxx!  Sigh.  It just about killed me to see these stores dark and shuttered, especially since retail was just opening up in my home state just prior to our departure.  Sigh.
Ok, so back to the boating part of this entry!  The wind was picking up as we entered the mooring field of Manhasset Bay at Port Washington.  John and I have a tried and true system for picking up a mooring ball pennant.  He is at the bridge and I am positioned in the stern at the lowest part of the boat.  I grab the line with my boat hook, walk it forward, pulling it up as I go, loop it on the forward cleat, and done……..all accomplished with no yelling!!  This time the First Mate wasn't feeling up for that technique, so we decided to put our Yacht Controller to work.  This enabled the Captain to assist.  A Yacht Controller is a wireless, remote control to assist in operating the boat.  It allows the operator to move about anywhere on the boat enabling him/her to control the bow and stern thrusters as well as putting the engines in/out of gear (forward or reverse).  We accomplished our mission with a high five, and again, no yelling was necessary!
The following morning we spent time prepping the boat because we had visitors coming!  Bob Loudon (whom many of you have met), our General Manager, had been talking with a couple interested in purchasing a Krogen Express.  They drove over from Connecticut and we had a good time sharing the attributes of the boat.  I think people appreciate the fact that John and I do extensive cruising and are intimately knowledgeable about the boat and the crusing life.
After our visitors bid us adieu we set out to find some Asian takeout for lunch, discovered a great place, and then found a park bench nearby in which to enjoy it.  Even with plastic forks and styrofoam containers, it tasted really good!
The next day brought the real excitement……..a trip to the huge Stop and Shop grocery store.  (There's even a very nice dinghy dock directly across the street from it (see picture)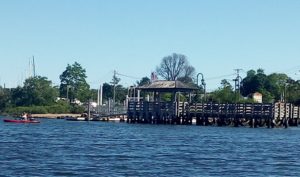 which makes it super easy for transporting the bags from the store.)  At home, going to the grocery is, for most, a dull and dreaded necessity.  On the boat, it is something you look forward to.  Even in the midst of a pandemic and the bother of having to wear masks and follow arrows in the aisles, filling up your boat pantry and fridge
is a big deal.  When you're done, you have such a sense of accomplishment, the feeling that all is well in your world, and it's now safe to progress with the trip.
Dropping the line to the mooring ball, we said goodbye to Port Washington and continued east along the north shore of Long Island.