Mattituck to Shelter……err, Block …….Island, and then Martha's Vineyard!
Mattituck is a darling little village that we absolutely love to visit.
  (And it has the best homemade donut shop in the world!)  The anchorage is about 20 minutes down the inlet off the north shore of Long Island Sound (see picture of red building).  There's room for about 4 boats there; but this time we were the only ones!  Nothing was open in town so we just hung around the boat, took short walks. 
We have friends from home who have a summer house near here, so they came to visit us, and we had a great time catching up as well as discussing all the ins and outs of world events.
The plan was to spend two nights there, then head to Shelter Island (which we'd never been to before) for a couple of days, then we'd head on to Block Island.  But after a double check of the weather we decided to implement Plan B…..go directly to Block Island.  When I say "check the weather" I don't mean sun, rain, and temperature!  I mean wind, wave heights, currents.  Those factors, combined with open water, are something that we have to heed and respect.
Making itinerary adjustments is something that boaters have to do from time to time. My captain is very good about studying the conditions in order to provide a comfortable, safe ride.  But also the Krogen Express gives us options……extra power to get through messy inlets, extra speed to beat/get out of bad weather, or arrive at a bridge for it's scheduled opening.  Sometimes 6 hours on the water is enough!  Get to your destination and enjoy yourself.  But if you want sip fuel you can run at a displacement speed; and she's happy doing that.
We arrived at Block Island mid-afternoon. Typically at this time of year Great Salt Pond is host to over a hundred boats, anchored or on a mooring.  We counted 10!  Ashore, we did see a few people and cars; but everything was closed.   Nonetheless, the "Welcome, Boaters" sign made us smile, as if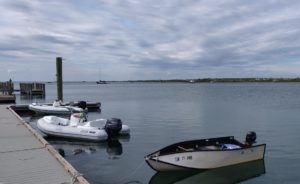 the sign was meant just for us!  At the dinghy dock, we looked back and got a clear shot of Daystar way off in the background.  Typically there would be so many boats, there would be no way to see her.
The sun rises earlier in the northeast than we're used to in Florida.  On the boat we get up around 5:30.  (By 10 you feel like it's time for lunch!!) We had dinghy'd to shore, walked the dogs, secured the dinghy, and pulled up
the anchor by 6:45.  It was a couple of hours to Point Judith across Block Island Sound where we filled up the tanks at a commercial fuel dock, and we also
purchased right-of-the-boat swordfish and a quart of lobster bisque.  (We'll be eating right tonight, I'd say!)
Filled up and dogs walked, we made the trip to Martha's Vineyard, arriving around 2.  It was a bit of a beamy ride, but we knew the winds were going to pick up even more and wanted to get settled in quiet Lake Tashmoo near Vineyard Haven.  It's a lovely, peaceful setting; and the sun has finally come out at 5:30 pm.