It was hard to say goodbye on Wednesday to our friends and
family after a wonderful week in Nantucket, but it was time to move on.  Looking back as we
cruised out of the marina, we waved goodbye, proceeding then past Brandt Point Lighthouse proudly wrapped in the American flag.
Waters were pleasant on Nantucket Sound which we appreciated, as it can get quite rough out there.  Thursday we dropped the anchor in a quiet spot in Onset Bay, just south of the Cape Cod Canal.  We were surrounded by a fairly
dense fog when we got up at 5 the next morning.  Dogs walked, dinghy stored, and anchor pulled by 6 we set off for the canal.  Things cleared nicely making for a visibly manageable trip.
Friday the water was unbelievable……flat and smooth, like a lake.  Hard to believe we were in the Atlantic Ocean!  As a result, we changed our plans and kept going
to Marblehead.  This is a charming town with homes from the 1800s.  It has a rich history in fishing and yachting and was once a major shipyard.  It is often referred to as the birthplace of the American Navy.  As is the case with much of the New England coastline, it is bordered by rock.  The town was named Marblehead by settlers who mistook it's granite outcroppings for marble. During our walk around town we came across a gift store that had some kitchen towels in the window, and this one really made me laugh!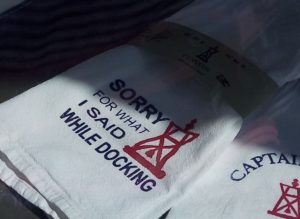 Any boating couple can really relate to the quote….."Sorry for what I said while docking".  Fortunately John and I don't have too many moments when we regret our words, but there can be tense times on occasion.
Our position in the Marblehead mooring field was right on the outside of the field, barely tucked into the harbor.  So, combined with some swells from the ocean and the lack of courtesy from speeding boats, we rocked and rolled until almost 9 pm. (Picking up the mooring upon arrival and launching the dinghy were no easy feats, either!)  Fortunately we were able to have a decent night's sleep.  Needless to say, we were more than happy to move on and will not be returning to Marblehead, not even to purchase that cute towel!
The ride today (Saturday) was also very comfortable, and before we knew it we were in Maine!  In New England it doesn't take long to go from one state to another.  I'm going to try to come up with other adjectives than "quaint" and "charming"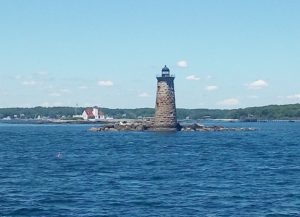 on this blog; but it might be a challenge!  Everything along the coastline in these historic, coastal towns is "quaint" and "charming"!  Kittery Point is no exception!  The Whaleback Lighthouse greeted us as we approached.  This is the view up the Piscataqua River off our stern.