We loved our time at the dock in Freeport!  We had a delicious dinner at the Harraseeket Lunch and Lobster Company (me, a lobster roll and John, fish and chips).  We washed the dogs, loaded up on groceries, and had a successful shopping trip to LL Bean so John could get a new pair of water sandals.   "Daystar" and "Twinkle", our dinghy, scrubbed clean, I could hear them both breathe a collective sigh of thanks!
When we departed Freeport it was an absolutely gorgeous day, sunny and clear.  Heading south into Casco Bay, once again dodging lobster floats, sailboats, and small islands of rock while also trying to identify markers, I said to John, "I'm so glad we are not trying to do this in the fog".  I spoke too soon.  Getting farther south into Casco Bay and away from land, boom, the fog descended upon us.  On went the radar and running lights.  Binoculars went from the counter on to our laps.  But then, as we headed north again towards land, sure enough, the fog dispersed and we had perfect vision.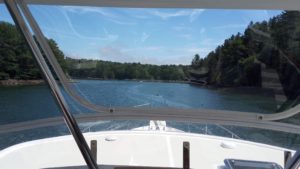 We had identified a great anchorage called "The Basin" just north of Sebasco and off the New Meadows River (see map) for the next couple of nights. The entrance is only about 100 feet wide.  After a quarter of mile or so, there's a hard turn left into
the basin.  It's very much like being on a lake!  We are surrounded by pine trees and rock outcroppings along the shore.  It's very serene and peaceful.  You never know what you're going to find in terms of other boats when you approach an anchorage, so upon arrival we were pleasantly surprised to see that we were the only ones (with the exception of a few weekend day boats)!
Last night we had the most dramatic "son et lumiere" (French for "sound and light") show I've ever experienced on the boat.  The skies were cracking and lighting up, and the rain was pouring down!  And this morning it looks like serious rain for the next 48 hours at least.  Just a couple of days ago the Portland Press Herald newspaper wrote this:  "An unprecedented lack of
rainfall in late spring has pushed almost half the state into drought conditions, and there's little relief in the forecast……"  So much for forecasts!  It's raining so hard that even if we were at home, and I had my much missed "back door and yard," our dog Zoey would not even consider going out!  She does not like the rain! Period.
As I sit inside, drinking my hot cup of morning coffee, I'm watching these fishermen out there in the pouring rain, hauling in their catch.  God bless them.
This is one of the times I am especially thankful for our covered aft deck.  After we've been ashore in the rain, we can get back on the boat and be covered while we take off our dripping wet rain gear coats and pants.  Otherwise we'd be entering directly into the salon, dripping water all over!  And I'm also very appreciative of a dryer for the many wet towels we accumulate on days like this.  Zoey loved being wrapped in a warm towel for her after-outing nap!
By the way, here are some pictures that portray the extreme tides here, 9 feet!  These were taken at our anchorage a few days ago.  This particular day low-tide was in the morning.  The wind was super calm.  By afternoon, at high-tide, the wind had picked up.
But this is my favorite picture of the trip so far.  This is our nephew Jack and his dog Tucker coming out to Brandt Point to watch us (on the right of the picture) enter Nantucket Harbor a few weeks back.  (His mom and dad were also there, taking the picture!)