We decided that we liked Harbor Island so much we'd stay another day.  (Plus it had good cell coverage which was a huge bonus, especially since we did not have wifi.)  The forecast was for wind, which also made staying put very attractive.  But it had turned chilly – maybe high of 65 – and with no cloud cover,
our fleece and sweats beckoned.  One morning I watched the lobstermen right outside our window with great respect.  They do this day after day, after day in sun, rain, fog, rough waters, and high winds.   The day following it was still chilly, but sunny; so I decided to sit on the "trunk cabin," just forward of the pilothouse, for direct access to warmth!  I once was a lover of "sunning," but no more.  However, this is a good spot to do that, and this day it felt really good!
The morning we were to leave, the fog was super thick but the sun was shining brightly. I know, it doesn't make sense to me either; but this is Maine!  When the fog finally burned off around 11, we pulled up the anchor and off we went for Maple Juice
Cove, just about 6 miles away.  The water was absolutely littered with lobster floats!  We're getting pretty good at driving through them.  But as I mentioned in an earlier blog, at least they're brightly colored and easy to identify.   We easily set our anchor and lowered the dinghy to take a walk.  A
local lobster yard allows visiting boats to tie up their dinghies there which was most appreciated by us……no walking through the water to get to land!  About a quarter mile away is the
The Olsen House and the setting for Andrew Wyeth's famous painting "Christina's World" painted in 1948.  Christina Olsen and her husband lived in this house and were friendly with Mr. Wyeth.   The house is open to the public and is now a National Historic Landmark.  It has been restored to match its appearance in the painting.  The field overlooks Maple
Juice Cove.
When we arrived at the dinghy dock we met some nice folks who were anchored on a sailboat.  They asked us if we were on the Krogen Express.  Of course a lengthy conversation ensued, and they asked if we
would stop at their boat on the way back to Daystar.  "We'd be happy to!" we said.  While we were at the dock we decided to buy a couple of lobsters "right off the boat"!  They were "soft shell" lobsters.  We steamed them in salt water and covered them with seaweed, cooking them about 15 minutes.  Neither of us had had a soft shell lobster,  We decided they are sweeter and more tender than hard-shell lobsters. 
They were delicious, but truthfully it didn't fill me up.  I woke up hungry the next morning!
We stopped at the sailboat and had a really nice conversation with the folks aboard.  They are interested in moving from sail to power, doing the Great Loop in the next couple of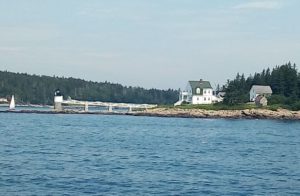 years.  They asked a lot of good questions and we invited them to come over and see us, which they did!  It's always fun to show off the boat!
The next morning we departed for Camden and the Lyman Morse Marina.  The scenery underway was absolutely beautiful!  "Now THIS is Maine", I said to John.  We cruised through pinetree covered islands bordered by rock outcroppings. We passed two gorgeous lighthouses…..Owls Head and Marshall Point.  Fun fact:  There are 65 lighthouses in Maine. The topography began to change, too!  We could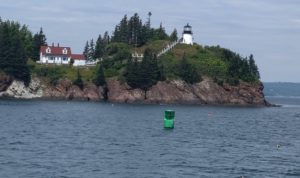 see hills in the distance of which Camden Hills State Park is a part.  This is the view as we entered Camden Harbor.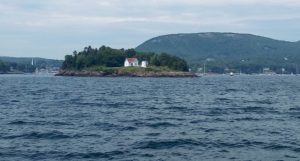 We are in awe of coincidences we are encountering during this trip!  We had a boat pass us when we were at a mooring saying that they were also from Vero Beach.  A couple docked next to us in Boothbay told us that they had kept their former boat at a marina near our home.  At a recent stop we were walking the dogs and a passed a house with a Jack Russell in the yard who looked just like M.E.   The owner came out and started to chat with us.  It turns out that had he lived in the same community that we did in Hilton Head!  We of course shared a lot of mutual memories.  At Oven's Mouth Cove, a Sabre was anchored near us; and then he turned up again at Harbor Island!  We dinghy'ed over to greet him and he told us that the wife of his former business partner (now deceased) and her current husband had owned a Krogen Express!  "Yes, we know them!", we said, and laughed to ourselves at another coincidence.
As I write this in Camden it is almost 80 degrees with a forecast of 85 tomorrow!  We just never know what the days are going to bring….65 one day, 80 a few days later!