We just loved our week long stay in Camden.  It offered so much and we were able to have a few cosmetic things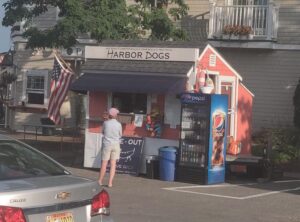 taken care of on the boat.  I was able to drop off about 10 books at the library and purchase 5 new ones.  We made two trips to the grocery in the marina loaner car.  I supported the Saturday farmer's market, purchasing corn and blueberries.  Yum.  We dined out at, yup you guessed it, a local dive!  Our favorite offering was the Southwest Fish Taco!  Delicious!
But being the gypsies we have turned into, we were ready to leave after a week and continue with our exploration of coastal Maine!  On we went to Warren State Park, off of the island of Isleboro.  Warren is a 70 acre island developed exclusively for boaters (ie. there are no bridges or cars) and offers numerous camping sites.  We anchored nearby and dinghy'd in to the dock there where we were greeted by a park ranger.  We had read that the trails are lined with wild raspberry bushes so we brought a baggie with us.  There were lots of bushes all right, but most of the berries were gone.  We managed to find about ½ a cup of berries but the picking was laborious and the berries were minute!  Nonetheless, John enjoyed some on his ice cream the next couple of nights!
As we passed by the camping sites on our trail walk, we noticed that most were occupied. The groups of enthusiastic campers had pitched their tens, spread out their wares on picnic tables, and prepared their camp fires for what would probably be evening hot dogs and smores.  As we walked by and waved I gave thanks that our kids were never in to camping!
  I just don't think I could have handled it.  I know it looks like fun, and it probably is; but my idea of camping is the queen sized bed, refrigerator/freezer, heads, shower, and 370 gallon water tank on the Krogen Express!  Although, I might be willing to spend a night outside for smores.  On second thought, nahhhh…….
During our two night stay we saw some gorgeous sunsets over the hills northeast of Camden.  These scenes remind me of "purple mountain majesties" in the song "America the Beautiful". The bonus is that the red, orange, and pink skies always bring a "delightful" day 12 hours later.
After our two night stay, we pulled up the anchor and made the 11 mile trip to Belfast.  (I am really loving these 10-15 mile days!  They're so much more enjoyable than the sometimes 90-125 mile days we have on our ICW trips!)
Belfast is a very cute town, complete with Cannabis dispensary.  While that's not high
on my list personally, the town does have some fun casual restaurants and interesting shops.  It's also the home of a huge shipyard with the largest travel lift we have ever seen. (It had 16 wheels on it, and could lift 440 tons!) As we walked around I was actually quite surprised by this place because, having grown up in New England and traveled to Maine several times by car, I'd never even heard of Belfast, Maine!
Belfast was a busy place in the 1800s.  Sailing vessels carried lumber and granite down the river here.  A major railroad ran along the river serving local businesses, industries and passengers.  The early 1900s brought a prosperous sardine canning business and a fertilizer business.  In the mid 1900s a poultry processing plant was built here.  Shoe factories, too, were major Belfast employers for many years.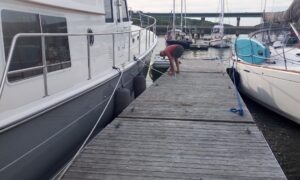 Here's a picture of us in Belfast tied up to a "float".   Many harbors here in Maine have floats that two boats can tie up to.  The purpose of a float is to allow for a higher density of boats because there is no swing, versus with mooring balls there has to be an allowance for boats to swing.  In a harbor with shallow areas or that is narrow, for instance, moorings would be almost impossible.  We'd never been on a float before and it was interesting.  The dogs could run up and down the dock but they couldn't wander away, even though we were on a dock we still had to take the
dinghy ashore, the boat stayed in one place so our view was always the same, we had no connection to power so we still had to run our generator! It all just felt new and different.
Next stop is the Castine area (see right side of map above).