We had a wonderful time with our friends in Portland.  What fun it was to have a good long gab session, catching up; and then a yummy
dinner in downtown.  Portland is a very fun city. There's a lot going on there.  They have restored old brick warehouses that now house shops, restaurants, and
galleries.  We stayed at a marina on the south of Portland Harbor.  That was fine for us; but it's not near the happening section of the city, so an in-town marina would be preferable for any cruiser wanting to be where the action is.
The next day (Sunday) we began the trek to Gloucester, Massachusetts, the stop prior to our week long stay in Boston.  The wind picked up on Saturday night.  Ordinarily we would have waited a day; but due to previously made family plans we found ourselves with the one thing a boater does not want………a schedule! We knew it would be rough; but we proceeded, "upward and onward". The forecast had the seas dying down in the early afternoon.  So our plan was to depart late morning.  Once underway, the seas did not die down and we had 4-6 footers on the beam for several hours.  While it certainly was not comfortable, when we arrived safe and sound in Gloucester, we gave thanks for the speed flexibility the Krogen Express offers and her seaworthiness, along with the good attitude of captain and crew (including the
4 legged ones!).  If you've cruised long enough, as we have, days like this are bound to happen.  You get through it and move on.
Monday the wind had died down and the seas were calm, thank goodness!  What a difference a day makes!  We dropped the mooring line and set off for Boston.  This was the view as we pulled into Boston Harbor, near Logan Airport.  We stayed a week at Constitution Marina just across the Charles River from Boston.  I wasn't sure what it was going to be like, but it's a great setup!  It's in a super safe area, lots of bikers/walkers/joggers/dog walkers. We were able to easily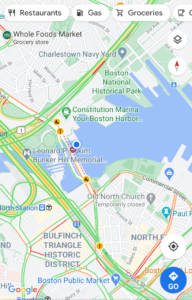 walk into town, walk to the subway (the "T' as they call it), Whole Foods, and a multitude of shops and restaurants (including "the North End" where we got ourselves subs at Monica's Mercado which has the highest rated Italian sub in Boston).
Off our port bow they were dismantling an old stone bridge and there were huge barges loaded with stone blocks and debris.  It was actually pretty entertaining watching the excavators; but it was loud.  They started at 6:30 am (yes 6:30!) and quit around 5:30
pm.  On the other side of this work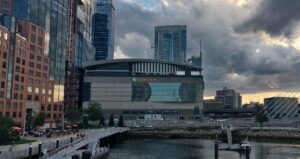 site is TD Garden (aka Boston Garden), home of the Celtics and the Bruins.
In addition to the excavation project, there were the sundry of city noises…..traffic, sirens, horns accompanied by bright city lights.  It was all quite the contrast to our quiet anchorages in Maine.  But it was a fun week and I had a lot of fun hanging out with my sister who's lived in Boston her whole adult life.
Next stop: a return to Onset Bay (where we stopped one night on our way north) and then to Osterville on Cape Cod.