I'm embarrassed to say that I have not written a blog post since early September!  How could it be that that much time has passed!  I guess we were just busy having too much fun!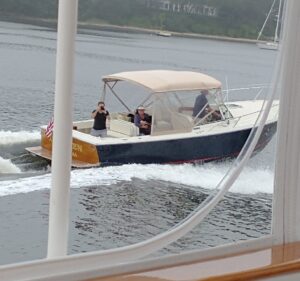 Following our trip to Boston, we made a one night stop in Onset Bay, just south of the Cape Cod Canal.  John decided at Onset that the water was warm enough to do some waterline cleaning!  The next day it was on to Osterville on Cape Code where we made the boat available for an in-depth boat review by the team of professionals at BoatTest.com.  A friend provided and drove the "chase boat" for the photographer which turned out to be a real hoot for our friend. This review and video will be coming soon to our website.
After 2 days in Osterville, we reversed our course and went slighty west to Falmouth where we docked for 3 days.  That turned out to be a great stop……grocery store, Walmart, and other retail within a 20 minute walk; and we met some very nice people there at the marina.  Then we made our way back to Edgartown on Martha's Vineyard for one night before going on to another few days in Nantucket with our family.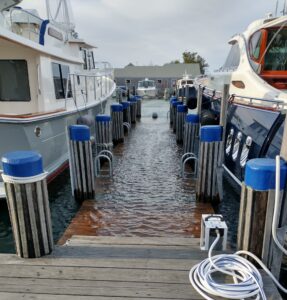 Our "few days" turned into more than a week, as winds from a southern tropical storm prohibited us – and many others – from leaving. (Note the high water at the dock!!)
However, what seemed like a negative turned into a positive, as we were able to meet and talk with several people who wanted to know more about the boat. Nothing like an opportunity to brag about and show off your product!
Winds settled and good-byes cast to our friends and family in Nantucket, we headed to Point Judith, Rhode Island for fuel, and then to Block Island for the night.  This particular visit to Block we decided to take the dogs to a little beach on Great Salt Pond.  From there we could cross the street and walk on the Atlantic Ocean beach on the north side of the island.  It was a gorgeous 75 degree day and it was great to get out and stretch our 2 and 4 legged legs!  The water at Block is so clear you can see the bottom which means sand and not muck, and that's a huge plus when you're pulling up the anchor!  It came up clean!  YAY!!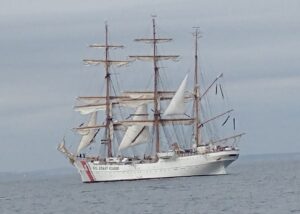 Our next stop was Shelter Island where we once again anchored.  We passed this Coast Guard beauty on the way in, the Barque Eagle.  She's a 295 foot training cutter for future officers.  "She is one of only two active commissioned sailing vessels in the United States military today, along with the USS Constitution in Boston Harbor." (Thank you, Mr. Wikipedia!)  We'd never been there, and had heard a lot about it.  It was a very nice spot with a good place to take the dogs; but honestly, after all the chatter about Shelter Island, we were a tad disappointed.  It was a nice spot, but nothing special.
The winds were to pick up again over the next few days so we set out for one of our favorite – and very protected – spots…..Mattituck on Long Island where we spent 3 nights.  Then we continued west along Long Island Sound to Port Jefferson for one night.  Mattituck and Port Jeff were also anchoring spots, so it was up and down with the dinghy as well as setting, raising and spraying down the anchor…….all in a day's cruising!
We always love seeing our good friends each fall who live in Wilton Connecticut, so we met up with them at the Brewer Marina in Stamford.  This is a really nice marina with good accommodations; but not near anything walkable.  That was ok, actually, since our friends came to us……….and brought Chinese food, something we'd had a hankering for!  We had a wonderful time hanging out and catching up with them.
We also always love seeing our daughter!  So our next stop was Port Washington on Long Island where she and her boyfriend came out on the train from Manhattan where they live.  The 4 of us cruised down the East River, through New York Harbor and into Staten Island.  We dropped them off and continued down the Jersey coast.  Yes, we "did the Jersey coast" at night!  We determined that the seas and winds for the trek would be best at that time, so off we went.  The dogs slept most of the night, John and I traded off 3 hour watches.  We dropped the hook off the Coast Guard station there in Cape May, and when Utch's Marina opened up we were able to get into our slip there. John hosed off the boat while I organized the inside, cleaned up dishes, etc.  Then we took a long nap!  In the afternoon we walked over to the Lobster Pot and got ourselves 4 quarts of delicious clam chowder to freeze and take home.
Rested up and glad to have that part of the trip behind us, we left the next morning for Chesapeake City on the C&D canal.  Unlike our trip on the canal last spring, this time our visibility was 100%!
   It was a non-descript kind of night, but one step further in our journey to Maryland.  The next stop on the agenda was Baltimore where we stayed a week at Anchorage Marina.  It was nice to be in one place for awhile; and this is a great spot to do that.  A good grocery store was right across the street, West Marine about two blocks away, a Target and mini-shopping area a mile away, restaurants, hardware, and a great walk-way which lines the harbor for runners, bikers…. and dog walkers like us!  Some good friends from home spend the summer in Baltimore so we had a couple of get togethers with them which was really fun.  A restaurant we visited had this festive fall display outside their front door.  Living in Florida, I miss this kind of thing!
We wanted to see some other of our good friends who live aboard their boat during the summer in Pleasure Cove Marina which is between Baltimore and Annapolis, so upon departing Baltimore off we went.  We anchored just outside of their marina and had a fun dinner with them, again catching up on each other's lives.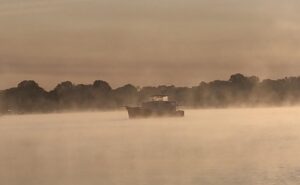 Continuing south through the Chesapeake Bay we made a planned stopped for a couple of days at the dock of some fellow boaters that we have cruised with from time to time.  They live on the Magothy River just north of Annapolis.  We're always so appreciative of their hospitality and friendship in welcoming us.  We all always glean a lot of boating and cruising knowledge from each other.  After a couple of days at their dock, we took a mini-cruise together – they on their trawler, we on ours – to a nice anchorage south of town, uniting aboard Daystar for dinner. 
It was a chilly night, tho, the coldest so far.  When we awoke the next morning it was 43 degrees.  And then we had to take the dogs ashore to the little beach at the anchorage.   With the water at balmy 65 degrees, it was warmer to keep my feet in the water than on the sand!!
After one last anchorage near St. Michaels, we headed to Oxford, our final destination where we will leave Daystar, and her companion Twinkle the dinghy, for the winter.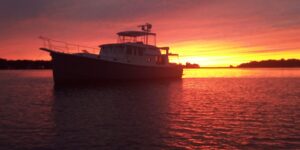 A humble thank you to all of you who have followed our trip to Maine this past summer.  All in all we traveled 2,025 nautical miles, spent 48 nights at anchor, 37 on a mooring, and 61 at a dock.  We ran the Genset 163 hours, bought 1300 gallons of diesel.  I did not count how many lighthouses we saw (my record keeping is not nearly as good as Johns – wink wink!) but it was a lot!
In the end it was a perfect combination of solitude (John's preference) and low-key socialization (my preference).  We had a number of days where we hardly spoke to another human being for more than 5 minutes (well, other than each other, of course!!) and then days with meals and fun get-togethers with family and good friends.