After just a short ride from Belfast, we dropped the anchor at Holbrook Island Sanctuary.  This is yet another scenic spot
with the added bonus of a dock.  The island has several trails that we all enjoyed immensely, some through open fields, some through dense forest.  The afternoon of our arrival (around 1) a school of fish was "boiling" the water not too far from our stern, and then we noticed some seals in the vicinity.  The seals were "herding" the fish!  This went on for a couple of hours.  As the tide went down and area rocks were revealed, we could see the seals sunning, fat and happy, after chowing down fish for most of the day!  I wish I had a picture to share; but our camera's lens was not powerful enough nor did we want to get to close in the dinghy for fear of scaring them away.  But I counted 12 or 14 seals.
The next day we decided to try the local "lobster dive" in Castine a few miles away, so we ventured out in the dinghy for lunch at "Captains Catch".  Most people are probably familiar with the Food Network star, Guy Fieri, and his show "Diners, Drive Ins, and Dives".  At the beginning of the show Guy drives up in his red Corvette.  Here on Daystar, we drive up in our dinghy "Twinkle"!  This is the 5th dive-like lobster/fish place we have tried so far; and on our rating sheet of lobster rolls and fish baskets, these were some of the best we've had.  In fact, we went again the next day!  The village of Castine is tiny, but quaint. It is rich in history and is home to the Maine Maritime Academy, a four year institution that graduates officers and engineers for the United States Merchant Marine and marine related industries.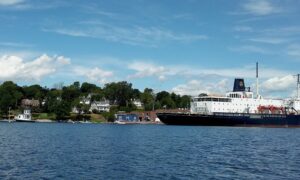 Their training ship, the 499 foot "State of Maine", is docked right in town.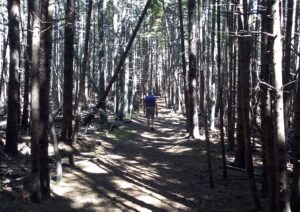 We enjoyed this area so much that we spent 3 nights and 2-1/2 days there.  The walking trails provided some good exercise and were enjoyed by all; and the availability of the dock made it easy to get ashore.  One of the trails started with
field and meadow, went through dense woods, and then ended on a beach on the other side of the island.
I love this picture of the stones on the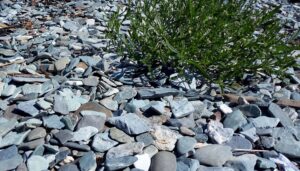 beach.  I found their shapes so fascinating.  But these flat, smooth stones – some large, some small – are pretty typical of what we have seen along the way.
One afternoon I decided my feet needed some help, so I pulled out a
bucket.  Not exactly the kind I'm used to – with the big loungey chair, bubbling warm water, and a foot massage – but it would have to do.  I was desperate!
Following Holbrook, around the corner a few miles was Buck's Harbor marina where we picked up a mooring for a couple of days. This is a protected little harbor, surrounded by pinetree hills.  It was calm and quiet.  Along their road was a long stretch of wild black raspberry bushes.  The bushes were thorny and the berries were tiny; but they were tasty so we helped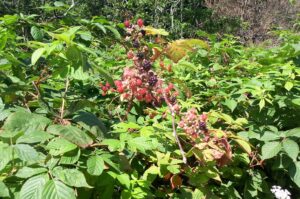 ourselves to as much as our patience would allow us to pick……about a cup!
And now having been as far east as Acadia National Park, we begin our return trip and head southwest towards Portland.  We returned to Rockland just for one night so we could get groceries, and so I could go to the Andrew Wyeth exhibit at the Farnsworth Museum right in town.  I was so disappointed to have missed it (they were closed that day we were there) on our previous visit.  It was a great exhibit and I really appreciated the opportunity to better know Wyeth and his works!
As always, we are looking ahead at the weather forecast.  There's going to be a strong north wind in a few days.  We are studying our options.